Notice
EAT PLAY LOVE Youtube Launching Event! 유튜브 론칭 이벤트!

작성일 : 2020-09-23
조회수 : 952
작성자 : 시스템관리자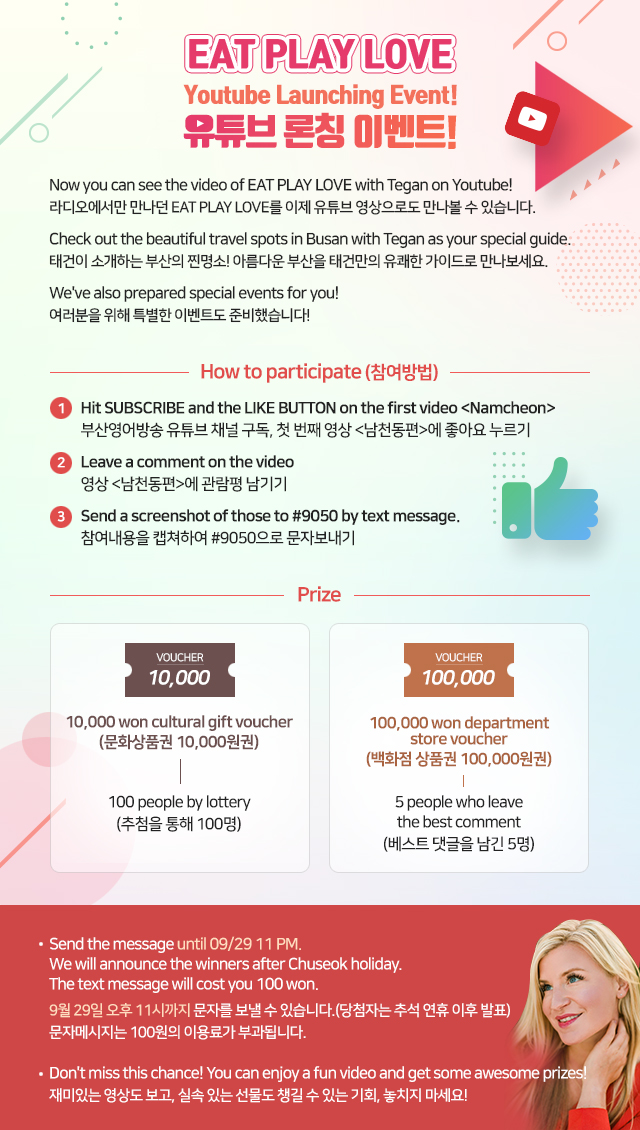 EAT PLAY LOVE Youtube Launching Event!
유튜브 론칭 이벤트!

Now you can see the video of EAT PLAY LOVE with Tegan on Youtube!
라디오에서만 만나던 EAT PLAY LOVE를 이제 유튜브 영상으로도 만나볼 수 있습니다.
Check out the beautiful travel spots in Busan with Tegan as your special guide.
태건이 소개하는 부산의 찐명소! 아름다운 부산을 태건만의 유쾌한 가이드로 만나보세요.
We've also prepared special events for you!
여러분을 위해 특별한 이벤트도 준비했습니다!

How to participate (참여방법)
1. Hit SUBSCRIBE and the LIKE BUTTON on the first video <Namcheon>
부산영어방송 유튜브 채널 구독, 첫 번째 영상 <남천동편>에 좋아요 누르기
2. Leave a comment on the video
영상 <남천동편>에 관람평 남기기
3. Send a screenshot of those to #9050 by text message.
참여내용을 캡쳐하여 #9050으로 문자보내기

Prize
- 10,000 won cultural gift voucher(문화상품권 10,000원권) : 100 people by lottery(추첨을 통해 100명)
- 100,000 won department store voucher (백화점 상품권 100,000원권) : 5 people who leave the best comment(베스트 댓글을 남긴 5명)

* Send the message until 09/29 11 PM.
We will announce the winners after Chuseok holiday.
The text message will cost you 100 won.
9월 29일 오후 11시까지 문자를 보낼 수 있습니다.(당첨자는 추석 연휴 이후 발표)
문자메시지는 100원의 이용료가 부과됩니다.

* Don't miss this chance! You can enjoy a fun video and get some awesome prizes!
재미있는 영상도 보고, 실속 있는 선물도 챙길 수 있는 기회, 놓치지 마세요!